---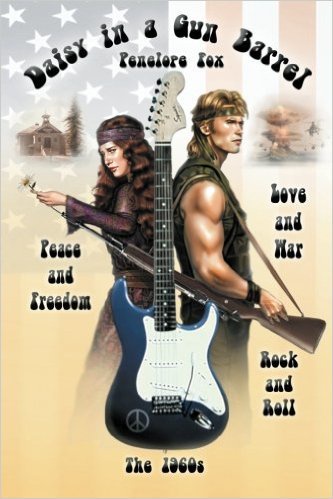 Daisy in a Gun Barrel : Peace and Freedom, Love and War, Rock and Roll, The 1960s by Penelope Fox
---
If you happen to be an "American Idol" fan, recognize Eric Clapton or Bob Dylan in television commercials, listen to classic rock, or follow the clash of conservatives and liberals in Congress, you know that the 1960s remain with us, even fifty years after the impact of the era. The dilemmas of that decade continue to confound us as we grapple with the ideologies that entered the consciousness of the nation during those years. A cascade of front page news marks the period: the election of youthful, progressive, President John F. Kennedy and the fear-mongering, strangle-hold of the CIA and FBI; peace movements versus military efforts; marijuana-smoking, long haired Hippies in loose fashions clashing with strait-laced, buttoned up, conservative law enforcement; Dr. Martin Luther King Jr. and civil rights, followed by women's rights, workers' rights and everyone wondering what was right. More incongruities arose from international oil production and giant factory output clashing with breakthrough biological science and environmental concerns. Satellite communication battled with censorship in broadcasting. Youthful interest in the Third World, especially Asia, was shattered by a horrific, undeclared war that lasted for fifteen years and created a generational divide that has never been breached.
A background of iconic music continues to remind us of the colorful history of the 60s. But what about the everyday lives of young people thrust into that psychedelic and political maelstrom? What was it like for the individuals trying to be heard over the roar of questionable politics? One answer lies in the collective voice of music that framed a lyrical diary of their experiences.
"Daisy in a Gun Barrel" is the story of Dianna, a teacher, and Randall, a musician, who find romance in college, and shortly thereafter are torn apart by war and circumstances. It is a story of people coming to terms with personal and political beliefs, only to find that society clashes with their viewpoints at every turn. Theirs is a generation determined to change the world into a better, kinder, more democratic place. Little did they know the impact of their ideals, or the real and metaphorical ammunition that would be leveled against the beliefs they viewed as right, moral, and constitutional. Rock and roll with Dianna and Randall through the tumultuous and exciting years of 1962 through 1970, and consider the impact of their generation. Smile at their optimism, weep with their losses, and celebrate the memorable songs that grace the years. Join the characters as they encounter turning points and question authority.
This is history, alive and kicking, with a strong appeal to the curious young, who were not there, and to the post flower children who would like to remember. Light the incense, slip into something tie-dyed, and revel in the events that illuminate this carefully researched and truly American story, before time and historians erase the vibrant, human essence of this powerful decade.
You must be the change you wish to see in the world. Mahatma Gandhi